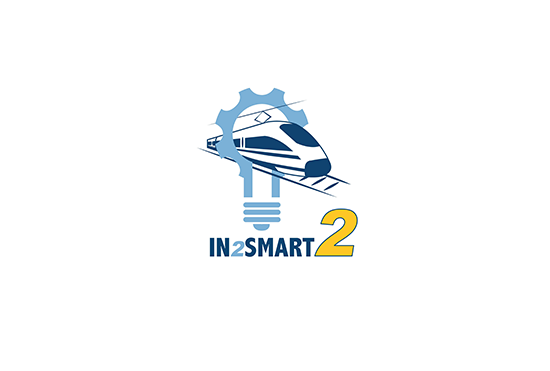 Description
IN2SMART2 is an innovation project launched by the Shift2Rail Joint Undertaking as a continuation of the work carried out in the IN2SMART project, following Shift2Rail's Multi-Annual Action Plan (MAAP).
The overall objective of the project is to enable the development of intelligent asset management systems in the railway sector, creating new and optimised strategies, frameworks, processes, methodologies, tools and products so as to contribute to the fulfilment of the objectives set by the European Union and Shift2Rail in the railway sector:
Creating the Single European Railway Area.
Enhancing the attractiveness and competitiveness of the European railway system.
Enabling the European rail industry to retain and consolidate its leadership on the global market.
IN2SMART has demonstrated at TRL 4 to 5 a set of modules and technologies that constitute the basis of a series of technological TRL 6-7 demonstrators in IN2SMART2. These demonstrators are led by European infrastructure managers and contractors.
The Technical Demonstrators (TDs) defined in IN2SMART are defined as follows.
7 Railway Information Measuring and Monitoring System (RIMMS).
6 Dynamic Railway Information Management System (DRIMS).
8 Intelligent Asset Management Strategies (IAMS).
The three TDs jointly contribute to the final Integrated Technology Demonstrators (ITD) that deploy the overall concept of Intelligent Asset Management. The nine ITDs in IN2SMART2 are led by Hitachi Rail, SNCF, Bombardier, Thales, Deutsche Bahn, Network Rail, Trafikverket, and OBB.
CEMOSA's role
CEMOSA contributes in the development of advanced algorithms in the following areas:
Anomaly detection.
Degradation models.
Multimodal transport.
Budget and resources management, including RAMS and LCC analyses.
CEMOSA develops these algorithms playing a key role in two work packages, which develop their own intelligent asset management systems. These work packages are listed as follows:
Intelligent asset management system for Metro Milano.
Operational Asset Management in a Dutch environment.
During IN2SMART, CEMOSA cooperates with key stakeholders in the railway sector such as Siemens, DLR, Fraunhofer, Hitachi Rail or Strukton Rail.