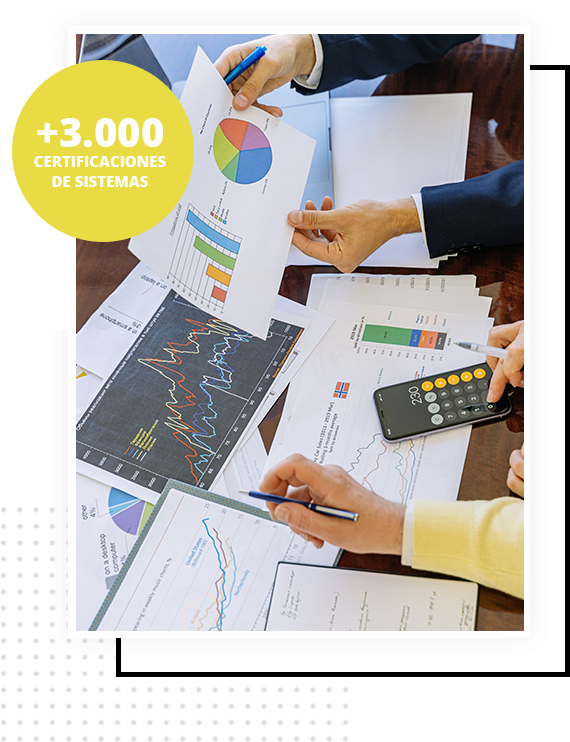 CEMOSA provides "Training for the implementation of measures to comply with certification requirements". It comprises general training on CE Marking of aggregates, mortars, bituminous mixtures, prefabricated concrete and metal structures, which is taught in-house for a single company. It consists of general training with elimination/incorporation of adaptation of a part, without specific practical cases and that does not offer any practical part. In no case does CEMOSA provide tailor-made training on specific activities.
CEMOSA, as a Control Body, is not involved in the design and manufacture of the products it certifies, nor does it offer technical consultancy services to manufacturers within the certification scope.
The R&D&I department does not carry out research tasks related to the manufacture of new construction materials or to the improvement of the properties of existing ones that may be subject to evaluation by the CEMOSA Control Body.
To request a quote as a Control Body, please consult our certification procedures, should you wish to request information on the validity status of certificates issued by CEMOSA or more information, send an email to: certificacion@cemosa.es
If you wish to submit a complaint/suggestion regarding the Control Body's action, you can send an email to calidad@cemosa.es, indicating at least the following information: company you represent, date of complaint/suggestion, statement of reasons and facts.
The complaints procedure is available to the interested parties upon request.
The CEMOSA Certification Area has been authorized as a Notified Body (No. 1377) by the Ministry of Industry and is accredited by ENAC for all the products it certifies in the field of the CE Marking of construction products (ENAC accreditation No. 156/C-PR357), being able to operate throughout the European Union or in any other place where products affected by CE Marking are manufactured.
We currently certify more than 100 construction products belonging to the following families:
Masonry
Additives
Mortars and aggregates
Precast concrete
Steel structures, electrodes, bolts, aluminium
Bituminous mixtures, grout, emulsions, bitumen and asphalt irrigation.
For all the products in which CEMOSA can operate as a Notified Body, see Technical Annex No. 156/C-PR357.
The Spanish, European harmonized standards or other regulations on product specifications and requirements establish in any case which is the Production Control System that manufacturers must apply as a guarantee of compliance.
Production Control Systems are based on:
Tests and/or documentary revision of quality guarantees of the raw materials used to manufacture the product.
Definition of visual inspections, tests, measures or controls during the manufacturing stages.
Test plan for finished products.
Establishment of verification, calibration and maintenance requirements for manufacturing facilities and test equipment.
Documented factory production control system to demonstrate product compliance.
CEMOSA acts as a laboratory Control Body for Product Evaluation System 3 for ceramic tile adhesives (UNE EN 12004:2008+A1:2012) and has its own laboratory for carrying out type testing.
CEMOSA has ENAC accreditation as a laboratory Control Body according to UNE EN ISO/IEC 17025:2005 for the performance of tests as a Notified Body within the framework of Construction Products Regulation (EU) No. 305/2011.
Royal Decree 163/2019 approving the Technical Instruction to carry out the production control of concrete manufactured in the plant entered into force on July 1, 2019, establishing the need for concrete manufacturing plants to undergo complete inspections by an inspection entity accredited by ENAC, National Accreditation Entity.
On July 10, 2020, CEMOSA obtained this accreditation, thus becoming one of the first entities approved to be an Authorized Control Body to carry out the Inspections of concrete plants in accordance with RD 163/2019.
On October 1, 2020, CEMOSA was registered in the Integrated Industrial Registry of the Ministry of Industry, Trade and Tourism to exercise as an Authorized Control Body.
RD 163/2019 audits will be carried out every four years to verify compliance with the criteria for carrying out the production control, and there must be a follow-up every two years with a scope limited to sections 5 and 6 set forth in the instruction in order to verify that these requirements continue being met.