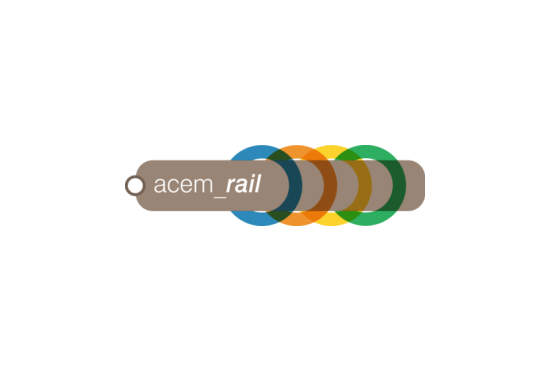 Description
The ACEM-Rail Project deals with automation and optimisation of railway infrastructure maintenance. It focuses on the track, including: superstructure, platform and other engineering structures such as bridges, tunnels and retaining walls.
This project will mean an important step forward in railway infrastructure maintenance techniques for the following reasons:
Several technologies and prototypes for automated and cost effective inspection of the track, embarked in comercial trains, will be developed. These technologies will be applicable both to conventional and high speed lines.
Predictive algorithms will be developed to estimate the rail defects evolution.
Algorithms will be developed for an optimal planning of railway infrastructure maintenance tasks. For the moment, there are not appropriate optimization models for the integrated scheduling of preventive and corrective operations.
Modes and tools will be developed in order to monitor the proper execution of corrective and preventive maintenance tasks. These technologies will be applied in mobile (hand.held) computers. This way execution and monitoring of maintenance tasks will be automated and optimized.
A novel technology based on intelligent systems will be developed for the optimal management of all the subsystems in the whole railway infrastructure system. A classification of all the different subsystem together with the selection of most relevant parameters will be carried out.
The main benefits of the project are:
Reduction of cost.
Increase in safety, quality and reliability of the service.
Increase of rail freight transport and, as a consequence, reduction in CO2 emissions.
All the developments of the project will be implemented and demonstrated on real railway infrastructure systems in the facilities provided by Ferrovie del Gargano (Italy). Moreover, part of the results will be validated in the Wegberg-Wildenrath test and validation centre (Germany) of SIEMENS (project partner).
The ACEM-Rail project is coordinated by CEMOSA and there are other 9 partners from the EU, highlighted among them the German research institute Fraunhofer and the German company  SIEMENS, and Israel.
CEMOSA's role
CEMOSA carries out the Project coordination and develops scientific-technical activities in several work packages. These tasks can be summarised as follows:
Degradation algorithms to predict track condition.
Collection of maintenance procedures.
Database with frequencies and costs of maintenance tasks.
Procedure to assess the maintenance effectiveness trough Maintenance Performance Indicators (MPIs).